🤔
You don't need my or anyone else's permission to express your creativity, but sometimes a gentle nudge can be a comfort. Taking inspiration from Rick Rubin's new book, The Creative Act: a Way of Being, I'm breaking down quotes and ideas and giving them my own spin. At the heart of it, is the steadfast knowledge that we are all creative beings. If we can get out of our own way and let creativity flow (best cultivated through dedicated practice), we can produce magnificent things.

I recently read music producer Rick Rubin's new book, The Creative Act: A Way of Being. The book touches on many aspects of creativity: spirituality, mindfulness, practice, acceptance, and introspection. Here are some of my favorite quotes from the book (and my takeaways):
The ability to look deeply is the root of creativity. To see past the ordinary and mundane and get to what might otherwise be invisible. (page 23)
Takeaways: We need to understand the difference between looking and seeing, asking ourselves, "Am I projecting onto this situation, or am I open to seeing it with fresh eyes?" To see the invisible threads requires mindfulness, being fully present as we weave sensory experiences, thoughts, and creative impulses together in new and exciting ways.
Living life as an artist is a practice. You are either engaging in the practice or you're not ... We tend to think of the artist's work as the output. The real work of the artist is a way of being in the world. (page 47)
Takeaways: Practice, practice, practice. How will your creativity be unleashed if you are not calling it forth consistently through practice? I like to create simple routines that I can count on, like waking up early on weekends to write when it's quiet in the house. If I show up, eventually, the creative flow shows up too. We are all artists, and our artistry is not dependent on the stuff we create. I love the freedom inherent in this idea.
Whatever insecurities we have can be reframed as a guiding force in our creativity. They only become a hindrance when they prevent our ability to share what's closest to our heart. (page 81)
Takeaways: If we allow insecurity to disrupt the release of our artistry, we get in the way of the impact our creative spirit can have on the world around us (and our world needs that creative spirit). Our creativity wants to be released, and once you create and release something out into the world, you no longer "own" it. It is time to move on to the next creative act or project. Perfection is a dirty word in my book. I'm in love with a new word: done.
Create an environment where you're free to express what you're afraid to express. (page 141)
Takeaways: When I feel the fear kick in, I know I am getting close to how I really feel. I am breaking down the protective walls I built around myself because I was insecure about releasing my truths. As I create a safe space for my self-expression, a new world opens up to me. It feels good to take off the heavy cloak of fear.
The goal of art isn't to attain perfection. The goal is to share who we are. And how we see the world. (page 177)
Takeaways: I love this idea. Sharing who we are and how we see the world is about spreading our wisdom and insight to enlighten the path of others. Once we accept that we all have wisdom and insight (and that the potential for enlightenment lies within us all), we can share it with others. Once released, other people will layer new ideas and reactions on our art until it grows into something beyond our original concept. Participating in that shared vision is a very human-affirming place to be, and it feels so good.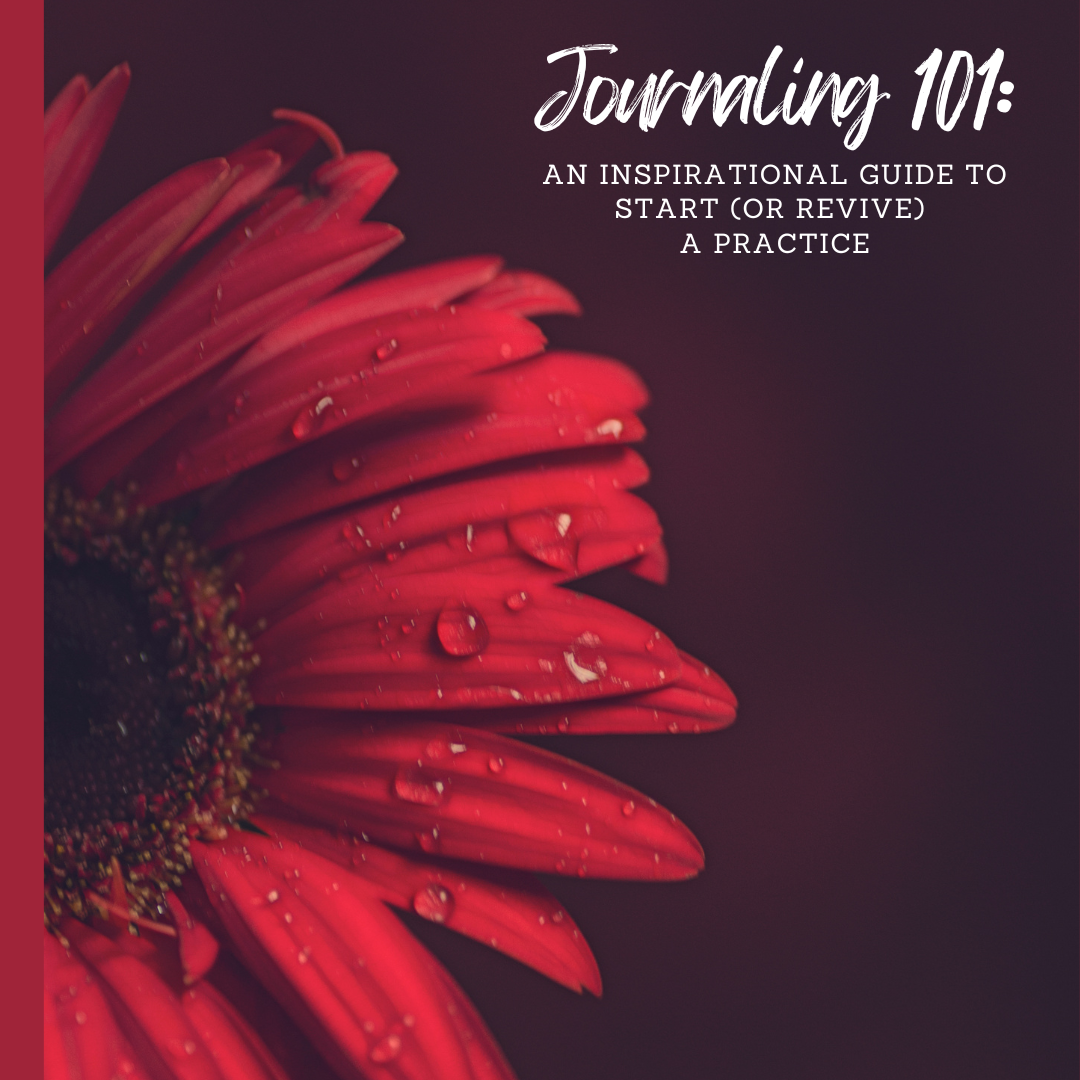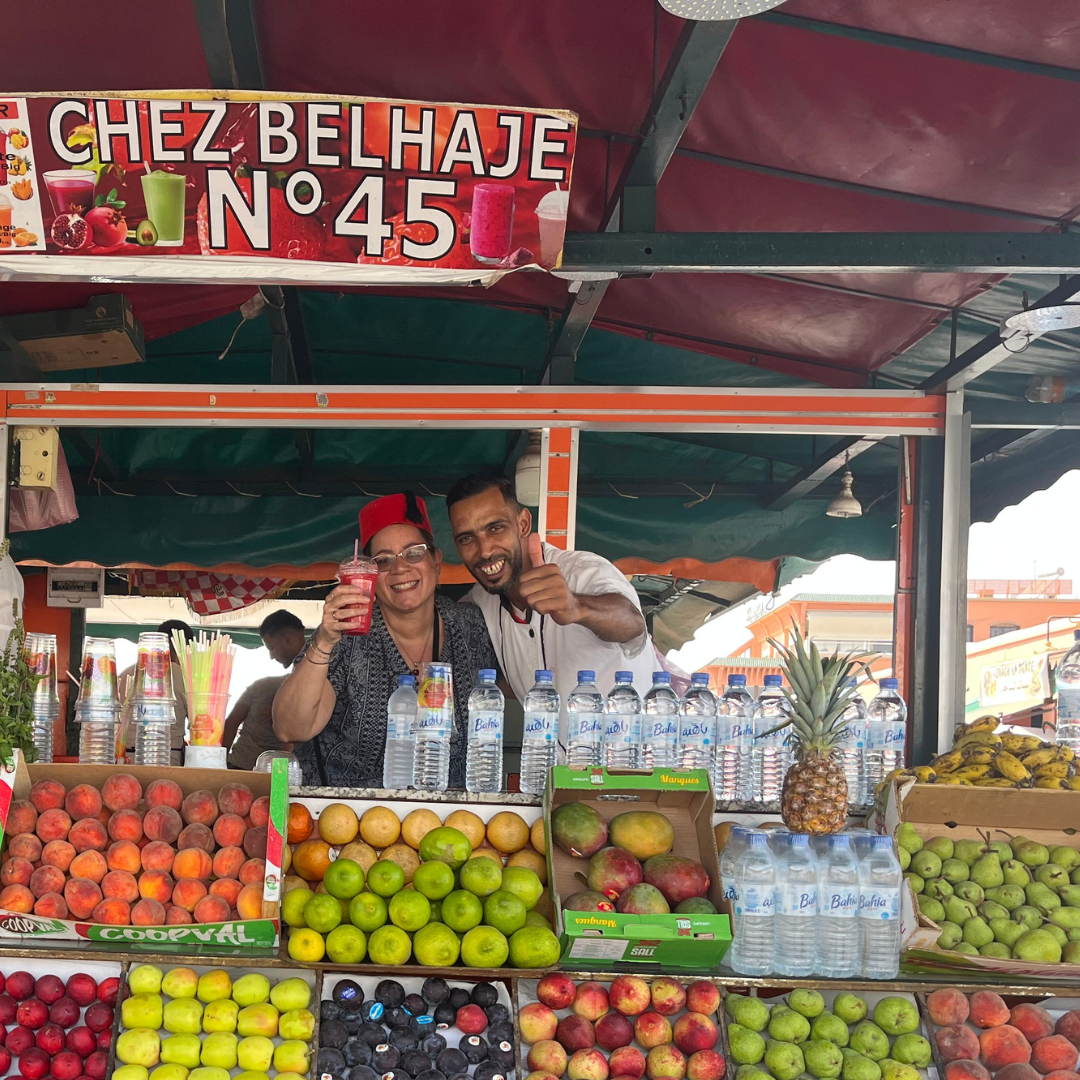 This poem was inspired by my recent trip to Morocco, where I saw pomegranates piled high in mounds in the medinas and drank their sweet juice made fresh (and with a warm smile).
Pomegranate
by Jill Hodge
A pomegranate, full and heavy
That's what I want to be
My thin skin held tight by liquid pearls
Released
They drip a full-bodied red nectar
And life is given, fruitful and awake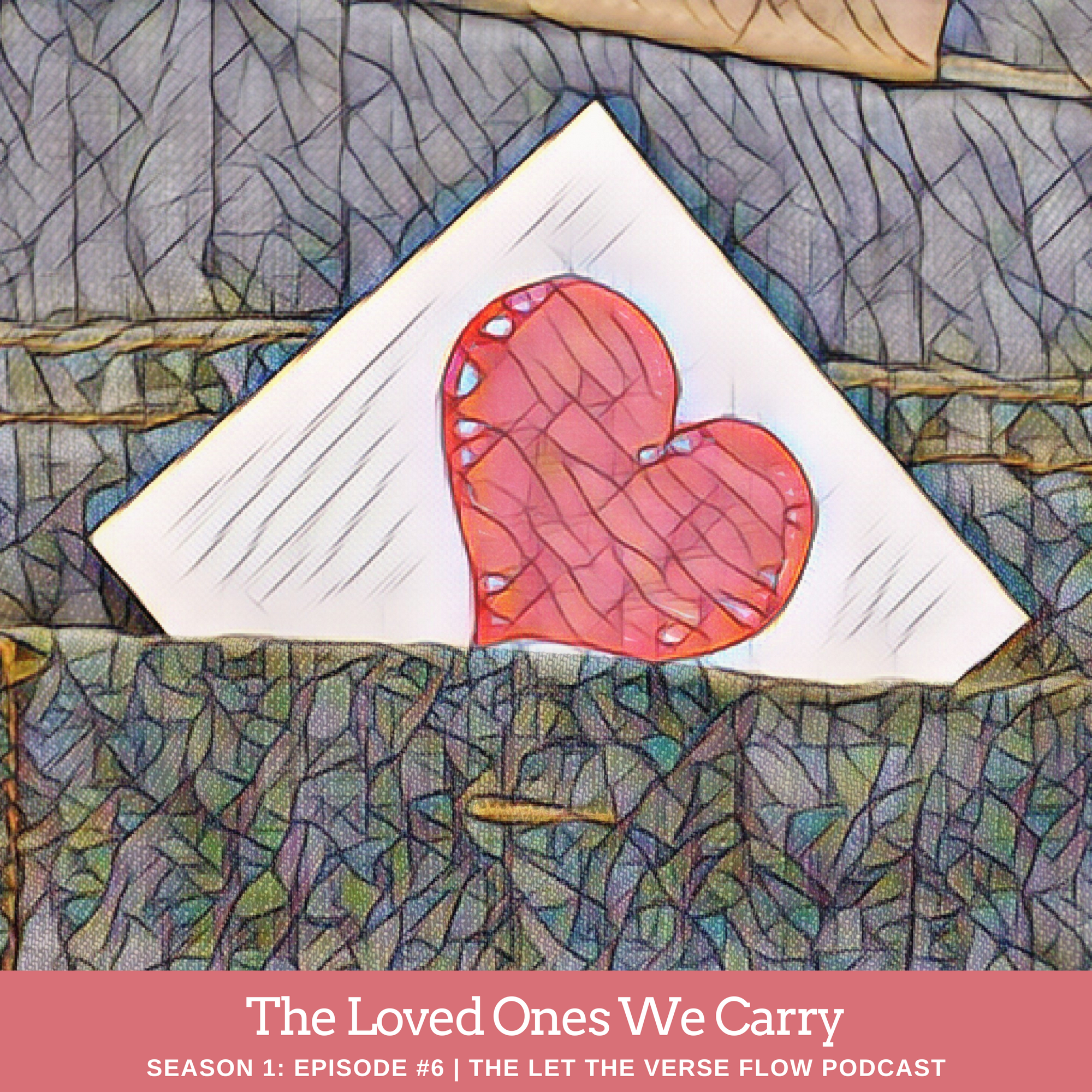 In episode #6, I talk about how we carry our loved ones (and all their teachings) with us when they aren't around anymore. The distance could be from illness, death, or geographical location, but we miss them and want to feel close to them even though they aren't physically present.
We are amazing humans, capable of carrying our vision of other people's essence inside us (as part of our inner body and soul). Their voice, habits, gestures, smell, and favorite song—we keep a catalog of their unique perfume with us. We can call upon their love and wisdom when we need it. Listen in to explore what it's like to travel along with someone in spirit. How to embrace their legacy and purpose so that we carry them with us even when we are in our most solitary state.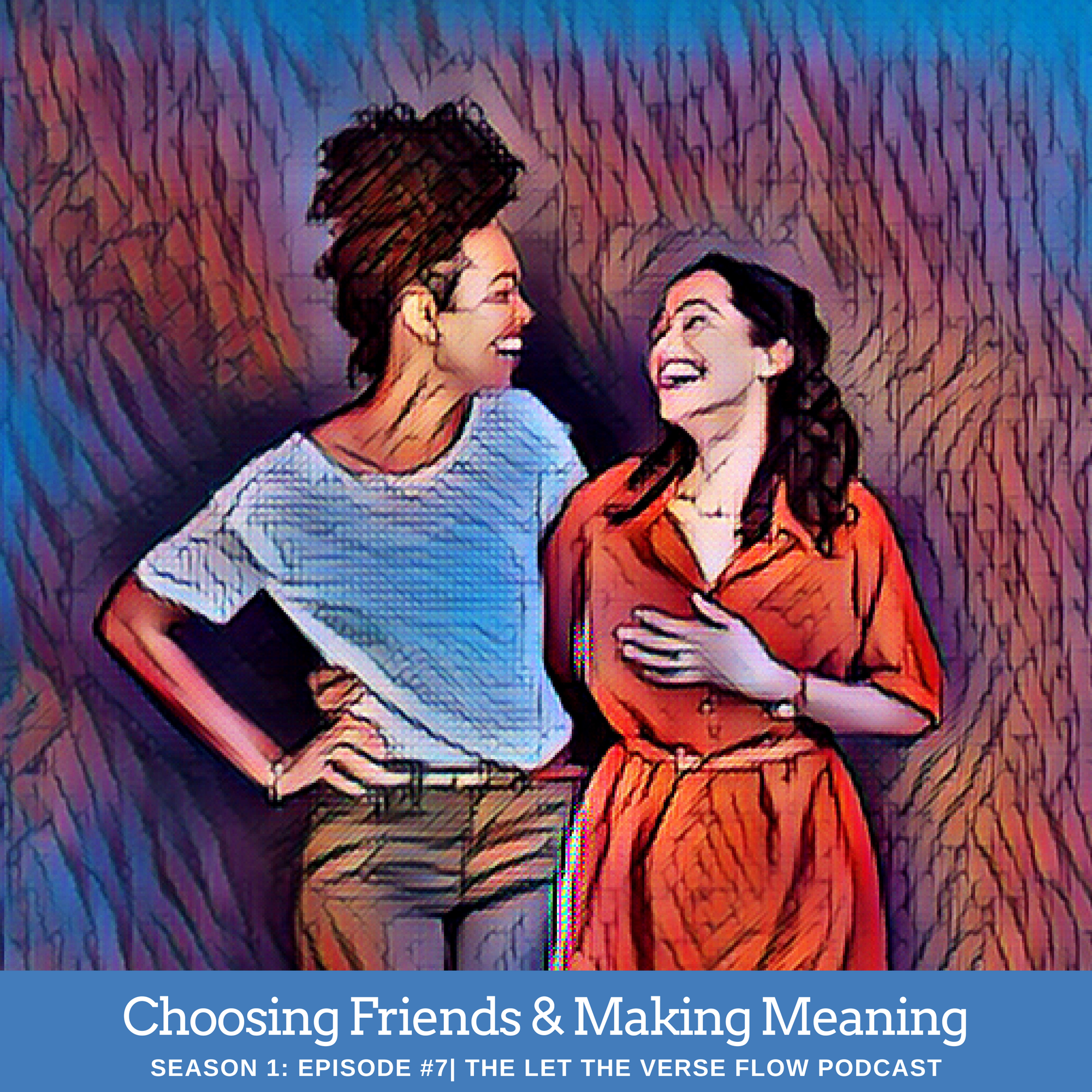 In episode #7, Choosing Friends & Making Meaning, we connect the threads between how making time and space for friends (and actively tuning into our interactions with them) helps build more meaning in our lives. To do this, we have to clear the cobwebs—get rid of the dead weight and make sure we can distinguish between people we should journey onward with as friends and those we can leave behind.

Listen in for some encouraging words to help you actively listen, so you can learn to read the signs accordingly and find your tribe. Once you've found them, be mindful of your times together because that's where the meaning lies.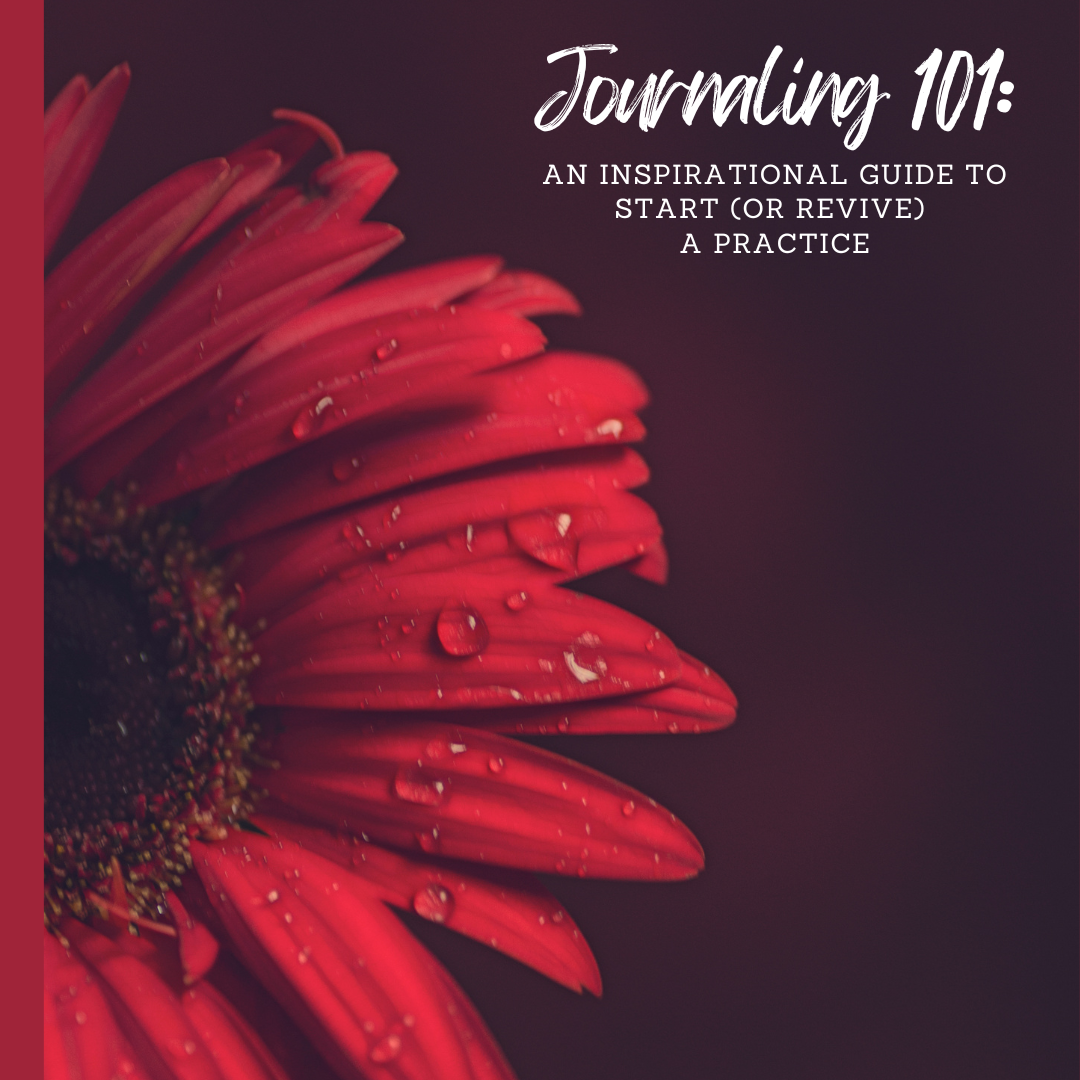 Journal Prompts (for your creative path):
If we want to make time and space for our creativity, we'll need two things to start: a practice where we routinely and habitually engage in creative making or states of being, and a mindset that revitalizes our creative spirit. I offer these journal prompts to help set clear intentions for your creative sessions.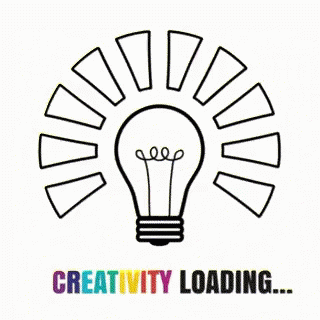 Write about one or two ways you will build your intention for creativity by setting up a practice. Consider your time/location and the creative tools you will need by your side.
If you could create anything your heart desired, what would it be? What's stopping you from starting, and how can you work to remove those obstacles?
Engage in 5-10 minutes of free creative play and then journal about it. How did you feel during and after the play? What were you thinking about, and would it help to add that playtime into your daily practice?
---
Curious & Contemplating
What I'm Listening to: Windowsill Chats host Margo Tantau creates an intimate space with artists, making us feel part of a creative community. She is an incredible interviewer with a natural style that helps her guests' creative pursuits and aspirations come alive. This podcast will help you process and enjoy your creative journey (and grow from it).
Recently Read: Big Magic: Creative Living Beyond Fear by Elizabeth Gilbert. Great quote: "Whatever it is that you are pursuing, whatever it is you are seeing, whatever it is you are creating, be careful not to quit too soon ... Don't let go of your courage the moment things stop being easy or rewarding. Because that moment? That's the moment when interesting begins." (page 247)
What I'm Reading: The Power of Meaning: Finding Fulfillment in a World Obsessed with Happiness by Emily Esfahani Smith
---
Gratitude Goes To...
More love and support streams in for the podcast. My thanks to Marsha, Michele, and Ayodele for reaching out to me to let me know they were vibing with the show. Marsha: Keep making art and speaking your truth!!
If you like the show, please don't keep it to yourself. Take a few moments to leave a rating & review on Apple Podcasts or Spotify. I would appreciate it.💛💜
Today's Photo
I snapped this picture last August during a day trip in Maui. This beautiful 150-year-old banyan tree sits in the Lahaina Banyan Court Park. A restful place to take a few deep breaths and feel protected by the ancient wisdom this tree carries. After seeing the destruction by the wildfires, it's hard to accept that much of the town I visited is gone. A ray of hope: I've read that this great Banyan tree is still standing tall.
My heart goes out to the native people of Lahaina during this difficult time. May you feel the collective support and love from people near and far who stand by you. Mahalo for sharing your island's beauty with me and my family. Able to donate? I like this charity: Maui Food Bank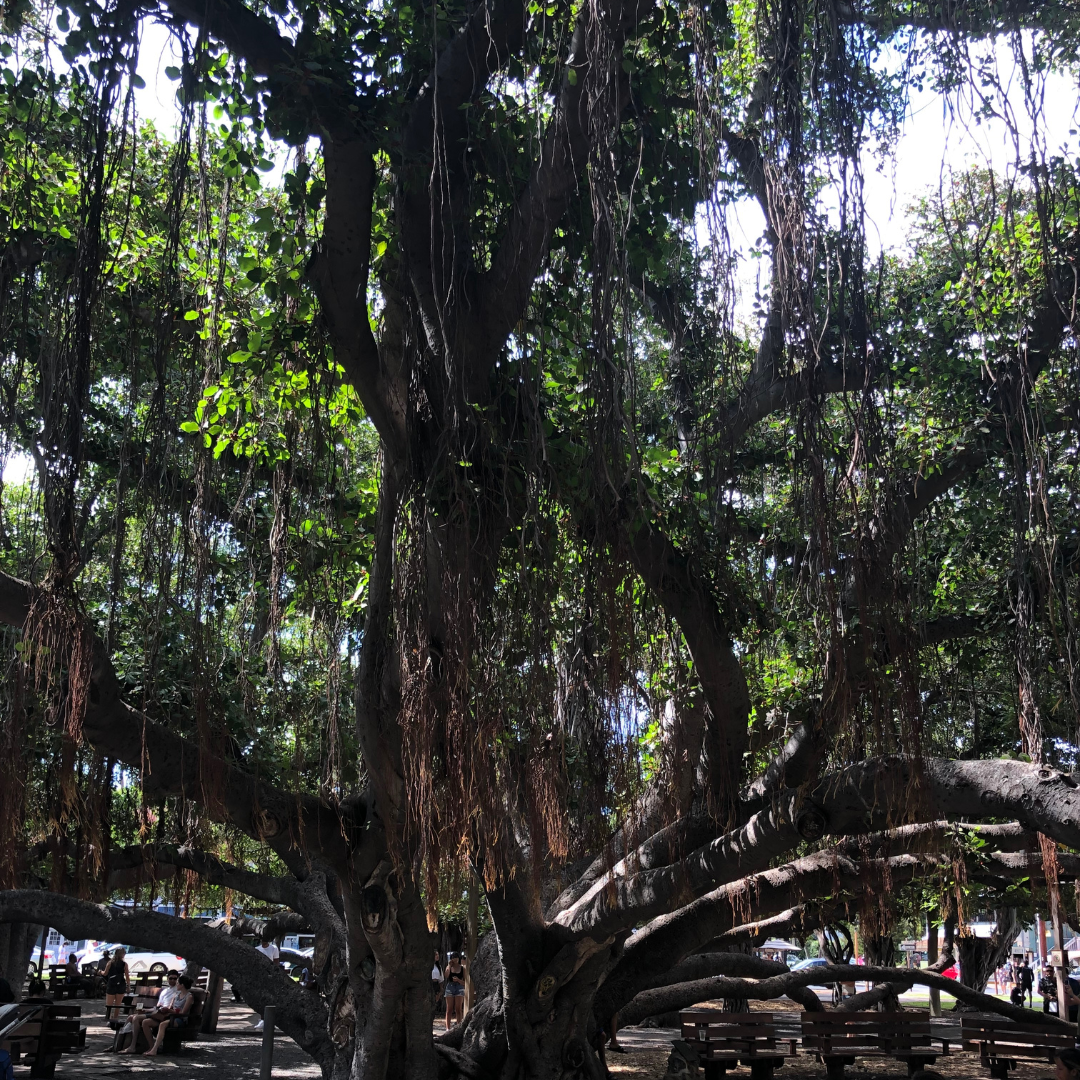 Tune in to Let the Verse Flow: Here's How
Listen to Let the Verse Flow, completely free, wherever you get your podcasts. Share it with friends and family—anyone who wants to get off the hamster wheel of life to find more joy, positivity, and happiness.
Listen to Let the Verse Flow on Your Podcast Player of Choice
Until next time, don't forget to stay on the bright side of the beat. 🌞
---
If this was forwarded to you, or you read it online, consider subscribing.
Let the Verse Flow is an independent publication launched in June 2023 by Jill Hodge. If you subscribe today, you'll get full access to the website, podcast episodes and a monthly newsletter delivered to your inbox (no spam). Members are vital to building a rich community of diverse voices. Join us by subscribing today; consider a paid subscription to support the community if possible. Thank you!